The Model – A Business Advantage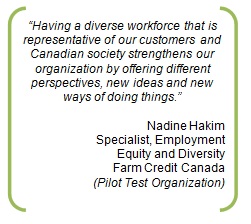 We all believe in the principles of human rights — that every person has a right to equal treatment with respect to employment and services without discrimination.
Operating a workplace where recruiting and retaining the best employees is essential to success. As an employer, you want the best and the brightest to work for you. This will benefit your employees and also the clients you serve. You want a workplace that is welcoming, vibrant and reflects what Canada is about.
A healthy work environment enhances motivation, increases productivity and morale and improves the recruitment and retention of employees. It gives you a competitive advantage. People want to work in a corporate culture where the employee is respected and where conflicts that arise are resolved in a timely and respectful manner. Employers that have a healthy work environment have been shown to outperform their counterparts in virtually all areas of business.
If you're a Canadian business that needs the best people in order to compete, the Model can certainly assist you!
During a recent presentation, one of our pilot organizations talked about some benefits of the Model. This is what they had to say:
"The Maturity Model promotes awareness and education from top to bottom/bottom to top and supports us as an employer of choice."
"The Model has helped our organization take a more proactive approach to discrimination prevention. It reinforces employee engagement and helps build respect and fairness in the workplace."
"The self-assessment tool facilitates communication, alignment of policies and procedures and culture change. Its concrete methodology is easy to apply and fits in well with our organizational priority setting."